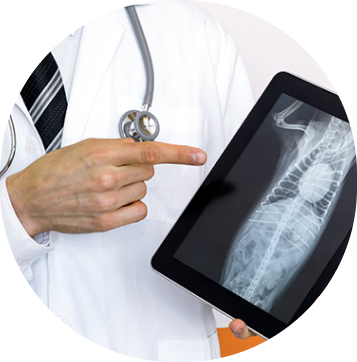 Radiology, the science of using radiographs or X-rays, to diagnose various internal issues in pets, is a valuable tool in veterinary medicine. As we continually strive to offer the highest quality medicine and diagnostic testing, we are pleased to offer radiology services as a means of providing excellent care to our patients.
Radiography can be used to evaluate almost any organ in the body, including the heart, lungs, and abdominal organs, as well as the bones.
Radiography is painless, safe, and completely non-invasive, and it uses only very low doses of radiation. Because the level of radiation exposure needed to perform radiography is very low, even pregnant females and very young pets can undergo radiography.
Ultrasonography
Ultrasonography is a powerful diagnostic tool that creates an ultrasound, or a real-time image of an animal's body. This composite reveals important information about internal processes including the circulatory, skeletal and gastrointestinal systems.
When used in conjunction with other diagnostic tools like X-rays, ultrasounds can help identify disease, blockages, skeletal fractures, soft tissue damage and other internal injuries.
An ultrasound works by broadcasting high-frequency sound waves that reflect off your pet's internal structures. A small probe held against the skin collects the returning signals to create an image of the internal body, most commonly used to examine abdominal organs like the stomach, kidneys, liver, spleen and gallbladder. An ultrasound of the heart, known as an echocardiogram, provides precise information about heart valves, blood flow, chamber size and contractions.
Completely painless and non-invasive, ultrasounds usually require some sedation because the patient must remain completely still. Stuart Sound Animal Hospital employs advanced imaging technologies guaranteeing the highest quality of care for our patients.
---
Our diagnostic suite is staffed by caring, skilled professionals who will provide state-of-the-art care with compassion and expertise. Call (772) 287-0024 to learn more!